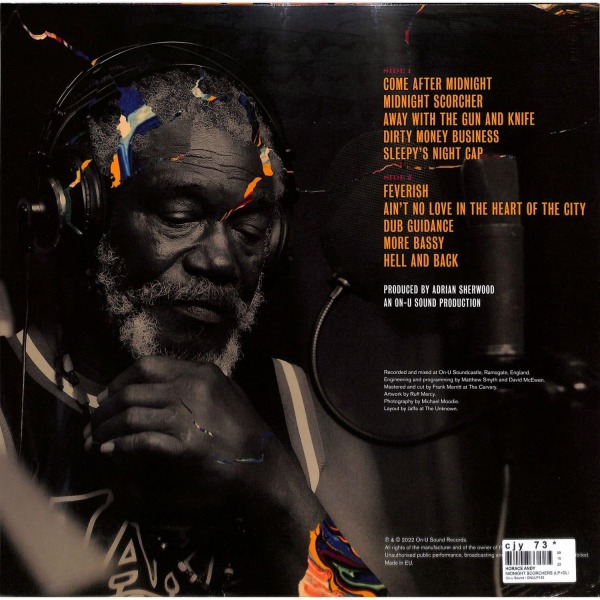 3.
Away With The Gun And Knife
---
7.
Ain't No Love In The Heart Of The City
---
description
Die Legende Horace Andy wird heutzutage vor allem als Massive Attack-Gastsänger und für seine Livesets, basierend auf seinem reichhaltigen Katalog jamaikanischer Hits der 1970er Jahre, wahrgenommen. Das mit Adrian Sherwood aufgenommene 'Midnight Rocker' rückt ihn als zeitgenössischen Künstler wieder in den Mittelpunkt. Das Album wurde allseits mit begeisterten Kritiken bedacht, u.a. setzte es der Guardian an die Spitze seiner Alben des Jahres. 'Midnight Scorchers' geht als Follow-Up noch einen Schritt weiter: mit Re-Rubs im Dubplate-Stil (inkl. Mic-Features von Lone Ranger und Daddy Freddy), Songs, die nicht so recht in die 'Rockers' Sequenz passten, aber im neuen Set eine Chance bekommen, zu glänzen, und frischen Mixen, die die markanten Arrangements rhythmisch aufblühen lassen. Auch das Artwork wurde neu interpretiert, wobei der preisgekrönte Animator Ruff Mercy (Gorillaz, Earl Sweatshirt, Thom Yorke) ihm einen Graffiti-Spirit im Straßenstil verpasste, was auch in seinem psychedelisch-farbenfrohen Video zur ersten Single 'Feverish' zu sehen ist, einer massiven neuen Version eines Horace Andy-Klassikers aus dessen Studio-One-Ära. Als unverzichtbare zweite Hälfte der 'Rockers & Scorchers' Geschichte ist das Album ein Muss für Hardcore-Reggae-Fans und aufgeschlossene Musikliebhaber gleichermaßen.